Kansas City Roofing Service is the Best Commercial Roofing Company
Kansas City Roofing Service has been dedicated to providing a great customer experience since its inception in 1932. We proceed with the construction process in a manner that allows you to keep your business open and running. As a reputed Kansas city commercial roofing services provider, we make it our priority to protect your employees and customers. While we work and we do our best to maintain a clean job site that reflects well on your business. With continuous training in all the latest products and applications, our team is ready to handle your commercial roofing project, no matter how demanding it may be. Let one of our marketing staff members assist you in choosing the right roof for the job.
We are one of the Leading Commercial Roofing Companies in Kansas City
Kansas City Roofing Service is one of the best local roofing companies in Kansas City, specializing in Kansas city commercial roofing services that are always at your service. We offer all kinds of roof repairs, including fixing leaking roofs, to entire roof system replacement and installation. We are the commercial roofing company that businesses trust, and we always guarantee you the best service.
Built-up Roof (BUR) Membranes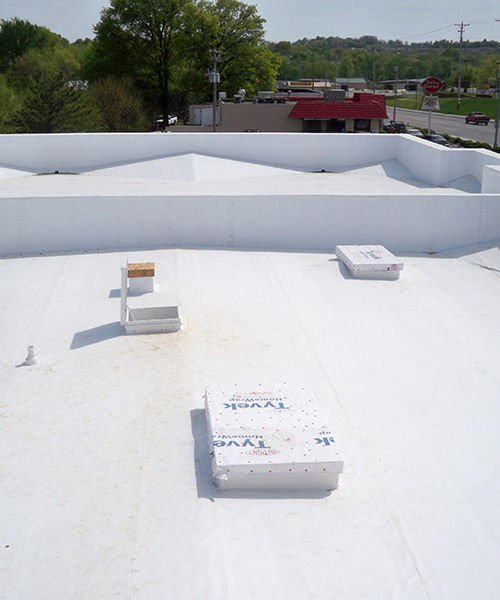 It is one of the oldest and most reliable methods of roofing. It was first known as composition roofing and commenced in the 1840s. Built-up roofs have several (as many as 6) roof piles that felt laminated with hot asphalt and surfaced with gravel set in a flood coat of asphalt. Many different types of materials with various qualities are available. The wide variety of materials available in BUR further allow for the quality of the roof to be tailored to the specific requirements of the structure. One can install these on virtually any type of roof deck. Some of the benefits are:
The multiple plies create outstanding protection against leaks.

The flood coat and gravel surfacing provide impact resistance and UV protection.

Extreme resistance to wind uplift.
Modified Bitumen
Modified bitumen roof systems have expanded their share of the commercial roofing market in recent years. Atactic Polypropylene (APP) and Styrene Butadiene Styrene (SBS) modified bitumen membranes comprise about 60 percent of the commercial roofing market. The growth of modified bitumen roof systems is likely due to many factors, including familiarity in the marketplace. Modified bitumens were introduced in the U.S. in 1972 and are user-friendly that allows contractors to use their built-up roofing equipment and expertise. Like Built-Up Roofs, Modified Roofs consist of several (usually 2) roof plies felt laminated in hot asphalt with a cap sheet, covered with ceramic granules. Modified Roofs also can be installed on virtually any kind of roof deck. Some benefits of Modified Roof are:
Lighter Installed Weight

Energy Star Compliance

LEEDS Credits

Quick Install Time

Multiple Color Options
Single-ply Roofs
These fit into the category of elastomeric roofs. Elastomeric materials are those that will return to their original size after repeated stretching. Some elastomeric roof materials will stretch to as much as 450% of their original size without damage.
Some of the positive qualities of these roofs are:
Very Light Weight

Conforms to any roof shape

Bonds well to the substrate

Expands and Contracts without Tearing

Remain Flexible at the Lowest Temperatures
The 3 Main Types of Single-ply Roofs are:
EPDM
That is a vulcanized rubber product that is manufactured in sheets up to 50 feet wide. It is available in black and white only. EPDM can be loose laid, mechanically attached, or fully adhered to these. Membranes are available with and without reinforcement scrim and are made in thicknesses up to 60 mils (.060″).
TPO
TPO membranes are single-ply roof membranes constructed from ethylene propylene rubber. They are designed to combine the durability of rubber with the proven performance of hot-air weldable seams. They have been tested as having excellent resistance to ozone, are algae-resistant, environmentally friendly, and safe to install. The material's manufacturers are so confident in properly welded seams that the material is advertised as a monolithic (seamless) roof sometimes. Seam strengths are reportedly 3 to 4 times those of EPDM's adhesive and tape seams. TPO is highly resistant to tears, impacts, and punctures with good flexibility to allow building movement. TPO's come in white, light gray, and black with thicknesses of either 45 mils (.045″) or 60 mils (.060″). The width of the membrane depends on the manufacturer, but they usually come in widths of six to six-and-a-half feet and are one-hundred feet in length.
PVC
PVC membrane is a roof membrane composed of only one layer of material – polyvinyl chloride. PVC roofs are specially designed to withstand ponding water- PVC membrane is welded together with hot air (no open flame) to eliminate all seams so that moisture cannot pass through. PVC roofing systems also reflect nearly 90% of the sun's heat, thus lowering energy costs substantially, especially in high-heat areas such as the southwestern United States. PVC's are available in 50 mils (.050″), 60 mils (.060″), and 80 mils, and in sheet widths up to 78″.
Tile Roofing
We offer a complete tile roof service
Tile Roof Repair

,

Leak Repair

, Maintenance, and Inspections

Leak Repairs……100 percent guaranteed for one full year!
Other roofing companies may only guarantee leak repairs for 30 to 90 days (whether it rains or not) – We give you a full year's warranty!
Rotted Wood Replacement
We also do wood rot repair. We also have a wide range of wood textures that you can use to match with the rest.
Replacement or Repair of Broken Tiles   We have a large boneyard of discontinued roofing tiles. We probably have yours!
Yes! We can match your existing tiles in most cases. With proper maintenance, your tile roof should give you a lifetime of beauty and keep your home or business establishment moisture-free. All of our work is guaranteed.
Metal Roofs
Reasons to Consider a Metal Roof:
Reliability is the hallmark of metal roof materials. Manufacturer warranties ranging from 20 to 50 years when the installation is performed by a professional metal roofing contractor ensure reliability.
Metal Roof Types
There are two types of metal roofs: Those with exposed screws or fasteners and those with unexposed fasteners. Metal roofing with interlocking seams that cover the screws (unexposed fasteners) is known as standing seam, while the type with exposed screws on the outside is referred to as roof panels. The styles of roofing design are often referred to as rib panels, V, U, 5 V crimp, M seam, and specialty designs such as shake, metal shingle, and metal tile. Roofing materials constructed from tin, galvanized steel, stainless steel, copper, lead, zinc, aluminum, and alloy combinations are commonly available. There is an endless choice of roof colors and style options. From flat panels to corrugated, metal is an ideal choice for commercial roofing and residential house roofs.
Metal Roofing we Install:
Standing Seam:
A standing seam is a vertical metal panel that lies flat and is joined together at the sides by concealed fasteners. An interlocking joint forms a closure at the connecting points between panels making the seams a watertight barrier from rain and water spray. Standing seam roofs are usually seen on commercial roofs such as government buildings, restaurants, service stations, banks, and industrial buildings. Many businesses have gone to standing seam roofs with identifying colors to be used as a brand.
Aluminum Roofing:
Aluminum provides superior protection in areas exposed to the damaging effects of salt spray and higher wind. Aluminum roofs have either interlocking panels or the popular interlocking shingle and tile design. Aluminum is also an ideal energy-efficient choice in residential roofing systems while offering a wide array of beautiful colors and styles. It is not uncommon for homeowners to see a drop in their home heating and cooling bills of up to 20% in cost.
Corrugated Metal:
Corrugated metals are a lighter-weight metal roofing choice, usually in 24 – 26 gauge thicknesses, making it an ideal lower-cost solution for home and commercial applications. Corrugated metal roofs are generally made of steel in the form of V, U, and 5 V crimp style roof panels. Factory-applied acrylic coatings such as Galvalume® offer extended protection against rust and corrosion on steel roofing. The panels are secured by connecting the overlapping sheets with color-coordinated screws. The roofing contractor responsible for installation should also take the time to caulk all connecting screws and seams, thus providing further protection against damaging roof leaks.
Metal Shingles, Metal Tile and Shake:
Similar only in appearance to asphalt shingles, clay tile, and cedar shakes, specialty designs in metal roofing such as stone-coated metal shingles have become a popular choice for residential roofs, restaurants, churches roofing, townhomes, and condominiums. Metal shingles, tiles, and shakes add visual design appeal with none of the disadvantages of traditional roofing products due to superior environmental protection, long life, and extended manufacturer's warranties.
Aluminum Siding
More than just roofs, commercial and industrial applications in aluminum siding is a popular selection for business owners due to low maintenance and extreme weather resistance. Residential uses are often for storage buildings and barns. Many designs are readily available, from wood simulations to the most frequently seen industrial appearance. Factory-applied finishes offer consumers an enormous color selection while boasting high corrosion protection.
Metal Roof Pricing:
The price of metal roofing averages approximately 20-50% higher than the cost of a traditional asphalt shingle roof, depending on which kind of roof material they choose. Roof panels commonly known as "residential roofing" are often constructed from a thinner gauge, while "commercial roofing" is generally selected from standing seam designs. Standing seam is the higher-priced choice. Roof coatings can also be applied to extend the life and create a waterproof barrier at very reasonable prices. Coatings cost a fraction of what a roof replacement would average and could add many serviceable years to a business or home roof. Metal roofs come in many colors ranging from red, green, brown, tan, blue, and silver.
Why Choose Us for all your industrial roofing services?
Kansas City Roofing Service has been repairing and installing steel, tin, aluminum roofs, metal roofing, and metal siding in Kansas City and surrounding areas for many years. If you are interested in knowing more about our Kansas City commercial roofing services, we would be delighted to explain the advantages and disadvantages of the various types and styles available to you. You can reach out to us at 913 677-1120
Choose Kansas City Roofing Service who has a proven track record and continue your business worry-free!
HAIL DAMAGE? Insurance Claim Specialist.
FREE INSPECTION! CALL 913.677.1120