Prolong The Life of Your Roof With Repairs by Kansas City Roofing Service
The natural calamities that Kansas and Missouri experiences almost every year can wreck havoc on the roofs of your building. We, the Kansas City Roofing Service are experienced in all kinds of roof repair and maintenance. We guide you to the best manufacturers and suppliers of raw materials to assist you in getting your roof repaired. This ensures quality, longevity and makes sure that you do not need to invest a lot on taking care of your roof. Our services include roof leak repair for built up roofs, modified roofs, single ply roofs as well as tile roofs, metal roofs, and rotten wood replacement. The commercial roofing services we undertake come with a full year's warranty.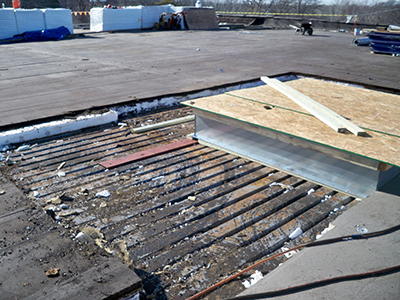 The Importance of Kansas City Commercial Roof Restoration  Why replace it? Restore it!
The roofs of your business establishment must be properly cared for and maintained. There are several factors that lead to cracks and leaks in your commercial roofing systems. At Kansas City Roofing Service we make sure that while we work on your roofs, you can continue to keep your business running. For industrial and commercial roof replacement, we examine your roof type before we go ahead with the process of repairing it. Based on the assessment of damage and the condition of the roof, we suggest either replacement or repair. For minor damage, a simple commercial patch may be good enough to make the roof strong and sturdy while for severe damage, we suggest the necessary steps to restore it.
Commercial flat roof repair, the better way

Weathering and aging cause much damage to roofs. We are adept at commercial flat roof repair and make sure that you do not need to undergo any trouble for a damaged roof. The Kansas City Roofing Service roof restoration service provided by us seeks to secure your roofs against all types of damage. Flat roofs are prone to water logging or ponding, open roof penetrations, roof membrane damage and natural weathering and aging. The rate of damage is first evaluated before the best solution to repair it is suggested. This way you do not have to spend extra or more than what is required. We are your best choice for any Commercial Roof Repair. Contact us today!
Choose Kansas City Roofing Service who has a proven track record and continue your business worry-free!
Click Here To Complete Service Request Form
HAIL DAMAGE? Insurance Claim Specialist.
FREE INSPECTION! CALL 913.677.1120