The #1 Residential Roofing Contractor in De Soto, KS
ROOFERS WITH DECADES OF EXPERIENCE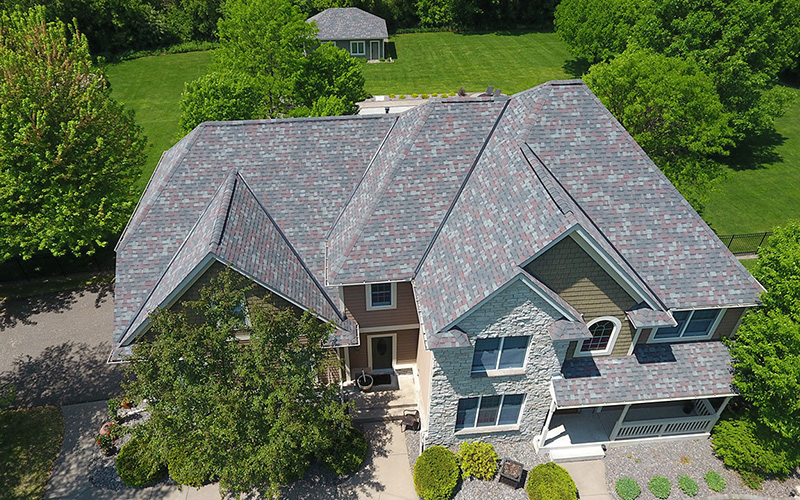 Top rated roof repair & replacement services
Free Estimates & No Hassle Inspections
One of the best workmanship warranty options in the industry
For any roofing project in De Soto, KS don't hesitate to give Kansas City Roofing Service a call! Our roofing team is trained to handle any size roof with care, quality, and professionalism.
With our harsh winter conditions and the blistering summers, there is no doubt a need for a reliable, quality roofing company when a roof needs attention.
Kansas City Roofing Service is a top rated Kansas City roofing company online with many 5 star reviews and is an accredited member of the Better Business Bureau. We offer comprehensive roofing services for every aspect of the roof system, from small home residential projects, to large commercial and industrial re roofs.
Our goal is to educate our customers and then help them make the best decision. When working with our team, you will first receive a roof inspection followed by a written estimate before any work is actually done on your roof.
Once you approve it, we set to work and complete the job on time and with excellent quality work and materials. We believe so strongly in both, that we finish up by offering a guarantee and warranty on all of our work.
WE OFFER THE FOLLOWING RESIDENTIAL ROOF SERVICES & TYPES:
New Construction
Re-Roofs
Insurance Claims Welcome
Inspections (Buyer or Seller)
Leaks/Repairs
Gutter Installation
Ridge Vent Installation
Siding Repairs and Installations
When it comes to getting a new roof for your home or business, finding a roofing contractor who knows what they are doing and does it well is half of the battle. Here at Kansas City Roofing you will find just that. When it comes to re-roofing we only use a small handful of manufactures to accomplish this. When it comes to roofing we believe that quality is better than quantity. Rather than trying to be everything to everybody we just do what we do best over and over again. When calling us for an opinion on what type of roof should you use you can bet we will only recommend the top roofing material manufactures in the business. Our list of preferred manufactures includes:
Concrete Tile Manufactures
Monier
An excellent line of lightweight and standard weight concrete tiles offer all three concrete tile profiles and many different colors and blends.
Composition Shingles
Asphalt composition shingles have come a long way from the old days of the 3-tab roof. They now have composition shingles available that are affordable and look amazing. Gone are the old days of a thin flimsy composition roof. In are the new super thick laminate shingles that come with a level of durability that's unparalleled. These new Laminates and Tri-Laminates are growing in popularity and we are installing more and more of them every year. The king at the top of the super thick laminate shingle is the Presidential line of shingle from Certainteed.
Certainteed Presidential and Presidential TL Ultimate
It comes in two versions Presidential and Presidential TL. Thick and thicker. The Presidential line of shingles costs a fraction of the natural wood shakes, but the benefits don't end there. Unlike wood, it won't rot or decay, and offers excellent wind and fire resistance. Both of them have all the color variations you will need to compliment any color scheme you may need to match. If you're the type who likes having the best of the best the Presidential TL is as good as it gets.
As for dimensional composition shingles which are the majority of the roofing market we offer all the major brands as well as Certainteed Landmark, Elk Prestique Plus and High Definition, GAF Timberline, and all of the Owens Corning shingles as well.
Slate Roofing tiles and shingles
For homeowners looking to add distinction and character to their homes slate and slate looking roofing materials can do just that. A more expensive option than your basic concrete tiles or asphalt composition but with it, you get the beauty of slate roof. Slate roofing has several drawbacks. It is often very heavy, it is always very expensive, it will break if walked on, and because it is a natural stone it doesn't have a warranty. With those negatives in mind we have been looking for a good slate alternative and we have one for you.
Simulated Slate
For those of you who want a thick-looking slate tile roof with trim pieces that wrap the edge of the roof, this is the way to go. The heights and widths of these tiles are about the same as the traditional "real slate". Auburn tiles are made to be staggered and they come in lightweight versions that don't look too thin. They have a multitude of colors and factory designed color schemes that will accommodate the most discriminating homeowner. If you are looking for a moderately priced slate-looking roof that is time tested this is a great option to consider.
Commercial Roofing Contractors Serving De Soto, KS
We handle all standard commercial roofing systems, such as flat roof membranes, shingle roofs, and metal roof options, as well as other less common or custom installations. We're dedicated to stocking a broad range of different commercial roofing options for our clients so that we can provide you with exactly what you're looking for at a price that suits your budget.
While roof lifespans vary, many of the options we offer can extend the life of your roof system up to thirty years so long as they are properly cared for and receive regular maintenance—speaking of which, we also offer maintenance services. You can trust the commercial roofers at Kansas City Roofing Service to guide you in finding the perfect roofing system for your business buildings.
Our teams consist of experienced professional commercial roofers, and they're standing by to provide you with any roofing service you may need, whether your roof needs a replacement, a repair, or you're looking to set up a maintenance plan.
Below, we've listed a range of the services we offer. However, if you don't see what you're looking for, don't hesitate to contact us. The commercial roofing companies nearby can't compete with our combination of expertise, value, and selection. We can't wait to hear from you!
WE OFFER THE FOLLOWING COMMERCIAL ROOF TYPES AND SERVICES: